Unit 6: Modern World History
Lesson B: 20th Century Global Politics - Decolonization
Activity 7: Comparing Vietnam and the United States
In the previous activity, you analyzed photographs of modern Vietnam to infer information about the economy. In this activity, you will analyze data comparing economic statistics of Vietnam and the United States.
Directions: Analyze the economic information in Document 9 and use it to record information on your Student Resource: Decolonization Case Study Graphic Organizer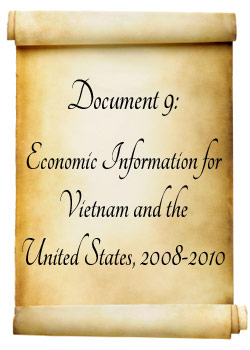 Written Activity - Notebook
Record the document and information gathered on your Student Resource: Decolonization Case Study. Be sure to think about the following questions as you record information.
Why would Vietnam still be considered a developing country whereas the United States is considered a developed country?
What are the possible limitations when a country relies only on farming and not industry or services?

Classroom Activity - Becoming Vietnam

Discussion
Directions: Prepare a response to the discussion questions below. Follow your teacher's directions to participate in your class discussion.
How did nationalism help or hinder Vietnam in its fight for independence?
What type of government exists in Vietnam today and why did that particular government take hold?
What type of economy does Vietnam have? Who controls the production of goods and services?
What rights are guaranteed to the people?
What conclusions can you draw about the impact of colonization and decolonization in Vietnam?
Select the link to review the Discussion Scoring Tool (pdf).
❖ ❖ ❖ ❖ ❖ ❖ ❖ ❖ ❖